30A Yacht Tours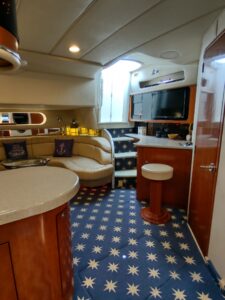 A a 30A Yacht Tour is the perfect way to enjoy your time in 30A, Florida, think about and then look no further than SlapHappy Yacht Charters! Located in Destin, SlapHappy specializes in providing individualized luxury experiences customized to perfectly fit our clients needs. From half-day charters to multiple-day packages, our Captain is dedicated to ensuring that each and every guest has the most enjoyable experience possible during their yacht tour.
SlapHappy Yacht Charters provides an amazing and unique experience that you can't find anywhere else. Our experienced Captain will take you and your group out into the pristine waters of the Gulf Coast, giving you a chance to marvel at its crystal clear waters and beautiful white sand beaches. On board the yacht, we provide all of the amenities necessary for a comfortable ride including luxurious furniture, state-of-the-art audio/visual features and much more! All of this adds up to one truly incredible experience that will leave you with lasting memories of your time aboard our yacht.
We understand that each client's needs are different so we strive to make sure we customize our services for every customer. During your groups tour of the Destin Harbor or Crab Island, our 30A Yacht Tour captain will be there every step of the way ensuring that everything goes smoothly and that your experience is nothing short of incredible.
Are you ready to experience the good life? Then come aboard with SlapHappy Yacht Charters where we guarantee an unforgettable adventure! Whether it's a romantic getaway, bachelorette party, bachelor party, office party or a family reunion, we have something for everyone! With our customized packages tailored specifically for every customer, you can rest assured knowing that you'll be getting only the best service during your tour. So what are you waiting for? Come join us today as we take you on an incredible journey through the crystal clear waters with SlapHappy Yacht Charters! ​​​​Remember if you are looking for a 30A Yacht Tour, then you will have to come to Destin.
Directions to SlapHappy Yacht Tours